Contact information for Lew Toulmin and The Village Press, publishers of The Most Traveled Man on Earth and travel editor of The Montgomery Sentinel:

Llewellyn M. Toulmin, Ph.D.
President, The Village Press
Author, The Most Traveled Man on Earth
13108 Hutchinson Way
Silver Spring, MD 20906-5947

LewToulmin@aol.com
301-942-6062 (office)
301-775-6115 (cell)

To set up a lecture or book signing, call the office or cell number above. For a list of lectures available, click to Cool Lectures Lew Can Give Based on the Book



If you order the book or search for it, the ISBN number is 0977617505.
The Most Traveled Man on Earth print run is now sold out. You may obtain copies from Amazon or E-bay.
Happy reading.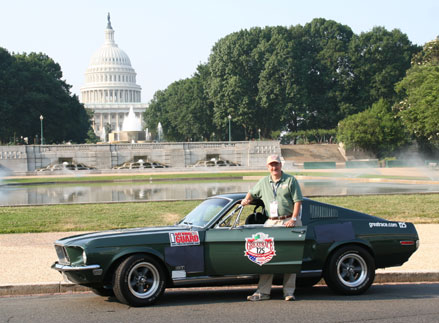 Lew Toulmin and his authentic 1968 "Bullitt" Mustang in front of the US Capitol, just before the start of the 4000-mile Great Race across America