Welcome to adventure!
This website will take you places you have never heard of, or even imagined. Travel and excitement all over our planet is the focus, in two main areas – a book by your host about the "most traveled men;" and recent stories in the areas of land and sea adventures, missing aircraft, adventures in genealogy, and Vanuatu -- the least known, most amazing country on Earth.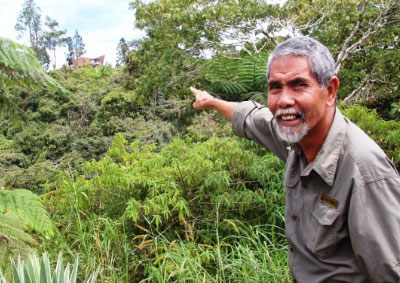 Lew works with Capt. Mohammad of the Malaysian Army in a search for the "Missing Silk King of Thailand"
Llewellyn "Lew" Toulmin is the author of
The Most Traveled Man on Earth
, a non-fiction book about the two men (John Clouse and Charles Veley) who vied for years for the title of "most traveled man," and about Lew's adventures trying to catch up with them. (Lew does not claim to be the "most traveled man," but is rated on Veley's website as in the top 100,000th of a percent of the people on Earth, in terms of travel.) Click on the button on your lower left to learn more about this exciting book.
Lew is also the author of over 150 travel and adventure stories, and hundreds of professional reports and documents in the areas of disaster management, search and rescue/recovery, public administration reform, e-government, and information and communications technologies. He is a co-founder of the Missing Aircraft Search Team and has participated or led in-depth searches for missing aircraft, persons, ghost towns, plantations and battlefields.
Lew is a Fellow of the Royal Geographical Society and a Fellow of The Explorers Club, has worked in 30 countries abroad, and has traveled to over 140 of the world's 196 countries.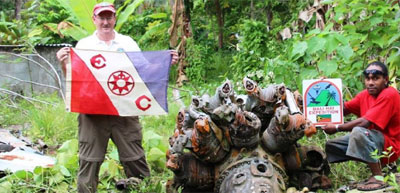 Solving the mystery of a World War II Corsair fighter crash – Explorers Club Flag Expedition
He is an expert in genealogical research, has served as the head of two lineage societies, and is a member of over 40 lineage and heritage societies.
This website provides stories, content, briefings and reports in all these areas – adventure, travel, classic cars, genealogy, search and rescue, missing aircraft, missing persons, disaster response, e-government, international consulting, policy at the Prime Ministerial level, etc., etc. Some of the exciting and bizarre adventures you will encounter here – and nowhere else -- include:
The forensic dog and DNA extraction expedition to a remote South Pacific island, to locate the Lockheed Electra of Amelia Earhart and Fred Noonan
The first-ever scientific analysis of the search for Jim Thompson, the "Lost Silk King of Thailand" – and a road map to solving this 50-year-old mystery
Weird things you never knew about Lawrence of Arabia
A day in the life of a Papal Swiss Guard
Driving all of Route 66, the Pacific Coast Highway, and the Lewis & Clark Trail in a 1968 "Bullitt" Mustang
Tracing your family tree back to St. Gregory "The Illuminator," in the year 250 C.E.
A successful search for a missing aircraft just a few miles from Sedona, Arizona
Floating down the Ohio and Mississippi rivers in 1809 in a twin flatboat
Getting shipwrecked on the Dry Tortugas in 1856
Vanuatu: home of "South Pacific," of a tribe that worships Prince Philip as a god, of the dangerous land diving ceremony that inspired bungee jumping, and of a strange pig-killing ritual that dominates the country
The dangerous life and missing plantation/battlefield of Brigadier-General Andrew Williamson, the "Benedict Arnold of South Carolina," the highest ranking double agent in the American Revolution, and Lew's direct ancestor
The first-ever investigation into the previously unknown "Female Chiefs of Vanuatu." For 120+ years anthropologists asserted that there were no Female Chiefs in the southwest Pacific. Lew found some and led an expedition to interview them -- see the "Vanuatu Mon Amour" section.
And many more….